The Showtime docuseries Love Fraud has hooked viewers with the story of Richard Scott Smith and the women who say he conned and swindled them out of thousands of dollars.
But one of the breakout stars of the four-part show is someone Smith never conned, a do-gooder who offered her services gratis after hearing the women's stories. Meet Carla Campbell.
Who is Carla Campbell on Showtime's 'Love Fraud'?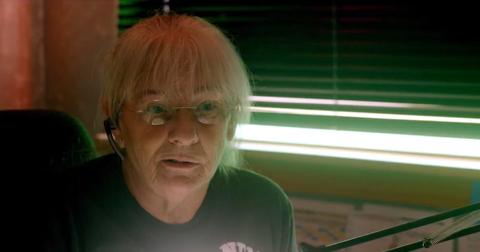 Carla Campbell is the "only lady bounty hunter in Johnson County, Kansas," as filmmaker Heidi Ewing told Vox, and Ewing and co-director Rachel Grady met with Campbell after the women in the Richard Scott Smith case told them about her.
"She had a bee in her bonnet and wanted to help these women because she had suffered under the hands of abusers in the past," Ewing explained. "So, this conglomerate of women, plus the bounty hunter, equaled intrigue for Rachel and me. Once we started hearing all the stories, we realized it was probably a series and not one film."
Ewing continued, "It was really tantalizing to know that he was out there somewhere, and maybe we could help find him. That was the kind of challenge that we could really get behind, and that's how it all started."
Campbell also reassured the filmmakers when it seemed like they'd never find Smith. "It was mostly stressful to not know where the purported center of our series actually was," Ewing added. "He slipped through the cracks, slipped through our fingers, many, many times. … Carla Campbell kept saying, 'He's going to slip up. They always slip up.'"
Vanity Fair, meanwhile, describes Campbell as a "straight-shooting, hard-smoking bounty hunter" who was so sickened by the Richard Scott Smith story that she commandeered the women's "revenge squad" and took on the case pro bono.
"She was somebody who understood the law, could help track him, and knew how he could be brought to justice legally," Ewing told the magazine. "She was a linchpin in the sense that she hadn't been wronged by him, but she encouraged the women and supported them and just had some credibility because of her experience with criminals."
These days, Campbell is battling stage-four metastasized lung cancer, and in January, she started a GoFundMe campaign to raise money for her medical expenses. "I just finished working with a film crew and the victims of a romantic con artist to find him and spread the word on this scumbag," she wrote on her GoFundMe page. 
She elaborated about her situation on the page: "I am currently undergoing radiation and immunotherapy. The medical bills and immunotherapy is turning out to be ridiculously expensive and isn't fully covered by insurance. My family and myself would appreciate your prayers, and any assistance you find it in your heart to give."
So far, the campaign has raised $3,415 of its $50,000 goal, including a $500 donation from a fan who wrote, "This woman has done more for these women and others, more than you know! I love her with all my heart!"
Source link