So does Khloé. Despite Tristan's attempts to win her back — he has sent her bouquets of flowers, called her relentlessly, and even gifted her an "engagement" ring — the KUWTK star has not given Tristan another chance. However, it seems the Good American entrepreneur may be budging on the subject. So, did the ex-couple decide to reconcile?  
So, are Khloé and Tristan back together? 
There's no denying that the Cleveland Cavalier player has been taking advantage of his time off and spending more time with his daughter … and Khloé.   
"Khloé is taking the quarantine very seriously and is staying home with True. There are no playdates or family time other than with Tristan," a source previously told E! News. "He is regularly over at Khloé's house and stays in contact with them when he's not."  
Additionally, the source explained, "They are co-parenting and giving True an opportunity to have both parents in her life at the same time." With both Tristan and Khloé spending quarantine together, it has been reported that the two are back on good terms and "giving their relationship another try." 
A source recently told People, "Tristan is working hard to prove himself and has been a great dad to True." The mother-of-one just celebrated her 36th birthday with close friends and family. Another source revealed to the outlet that the duo "acted like [they] were back together" while at her party. 
So, while the couple hasn't confirmed the recent rumors, one family member finally did: Scott Disick.
Yes, the Lord confirmed the reconciliation news in one simple Instagram comment. Following the KUWTK star's recent social media post, which showed off her toned body in a bikini, Scott commented, "@RealTristan13 is a lucky man!"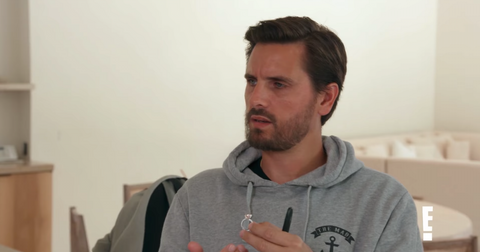 Tristan tried to win Khloé back with a huge diamond ring last year — but it didn't work. 
 During a 2019 episode of KUWTK, Khloé revealed that her ex got her a very specific piece of jewelry. "Look at what Tristan gave me last night," Khloé told her besties, twins Malika and Khadijah Haqq, on the reality series. "A pink diamond." 
Malika and Khadijah's shocked faces are basically a representation of the fans' reaction. Khloé also shows Scott the new bling, and he tells it like it is.   
"It looks fully like an engagement ring," Scott replied, which prompted Khloé to exclaim, "Nope, no!"  
This certainly isn't the first time Tristan has tried to buy back Khloé's love. Tristan bought the reality star a Porsche with an estimated value of a half a million dollars back in September.  He's also left some suggestive comments on a few of her Instagram posts, like "Perfection," and "The sun is shining bright on a beautiful diamond." 
Well, it looks like his hard work finally paid off.
Source link