The Hamptons real estate scene is on full display in Million Dollar Beach House, and the agents aren't afraid to get cut-throat in order to get a listing. The first season of the Netflix reality series debuted on Aug. 26, and it centers around five Nest Seekers agents: Noel Roberts, J.B. Andreassi, Jimmy Giugliano, Michael Fulfree, and Peggy Zabakolas. 
Peggy is the only female salesperson in the office, and she's not afraid to make waves on the show.
Who is Peggy from Million Dollar Beach House? You might recognize her from another reality show. Keep reading to find out more about the Nest Seekers employee, and to learn where you've seen her before. 
Who is Peggy from 'Million Dollar Beach House'?
The 33-year-old has been in the real estate game for more than a decade. She was raised on Long Island, N.Y., and she obtained her undergraduate degree from Hofstra University's business school.
She got her start in real estate with commercial deals, but she later left it behind to attend New York Law School.
Unlike the other agents on Million Dollar Beach House, Peggy is a lawyer and a member of the NYS Bar. She, therefore, has the added experience of understanding transactions and contracts from a legal standpoint. 
Peggy has worked with Nest Seekers since 2012, and she got her start in reality TV by appearing on Million Dollar Listing: New York. She was originally an agent on Ryan Serhant's team, and she made several appearances on that show. 
"I've been with Nest Seekers for almost 10 years, and years ago when I first started, I was with Ryan Serhant on Million Dollar Listing New York. I wasn't a main member, I was just a cameo here and there, but I was on the team for about five years as one of the original members," Peggy told Esquire. 
She worked on Ryan's team for five years, but Peggy then decided to expand into a different market: the Hamptons. She filmed Million Dollar Beach House during her first summer in the area.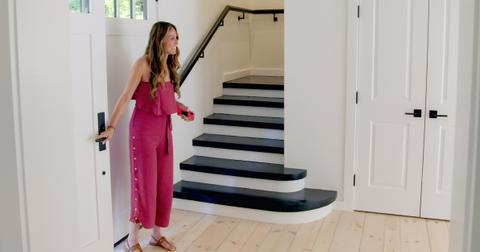 "After seven years of killing the New York City real estate market, this is my first summer in the Hamptons. A lot of my clients come to the Hamptons, and all this time I've been referring it out to other brokers. Why not do it myself? Why not extend my own team, and just kill it out here?" she said on the show. 
"I have a great rolodex of financial advisors and tech people," she continued. "That's my playground."
Known for walking around properties and construction sites in stilettos, Peggy has also gotten the nickname "Deals in Heels" over the years. 
Peggy splits her time between the Hamptons and New York City, though most of her co-stars are fully based out east.