There have been reports of unsolicited face masks from China arriving in mailboxes across Tampa, Florida, according to WFLA. This latest incident comes a few months after several people in Virginia received unsolicited packages of seeds in the mail, possibly originating from China.
Clearwater resident Shan Sharp told the publication that she received an unsolicited package addressed to her in her mailbox which contained two packages of face masks. The package contained no shipping information, other than it might have originated in Shanghai, China. The package also contained identifying information on Sharp, including her cellphone number.
"I was afraid to even open it after I saw it," Sharp said. "I didn't want to keep it in my house."
According to the Better Business Bureau (BBB), the packages are part of a brushing scam. "Their intention is to make it appear as though you wrote a glowing online review of their merchandise, and that you are a verified buyer of that merchandise. They then post a fake, positive review to improve their products' ratings, which means more sales for them. The payoff is highly profitable from their perspective," the BBB explains.
"Brushing scams involving seed packets in international mail shipments are not uncommon," the USDA added in a statement. "U.S. Customs and Border Protection (CBP) has intercepted similar seed shipments in recent years."
"It could mean that the scammers have created an account in your name, or taken over your account, on online retail sites. Or even created new accounts (maybe lots of them) in other names tied to your address. Letting them post lots of seemingly-real reviews," Jennifer Leach, associate director of the FTC's Division of Consumer and Business Education said.
This incident comes weeks after several people in Virginia received unsolicited packages of seeds in the mail, possibly originating from China.
According to WHSV, several people have reported receiving the seeds. They reported the unsolicited packages to authorities, leading the VDACS to get involved.
"The Virginia Department of Agriculture and Consumer Services (VDACS) has been notified that several Virginia residents have received unsolicited packages containing seeds that appear to have originated from China," the agency wrote in a press release.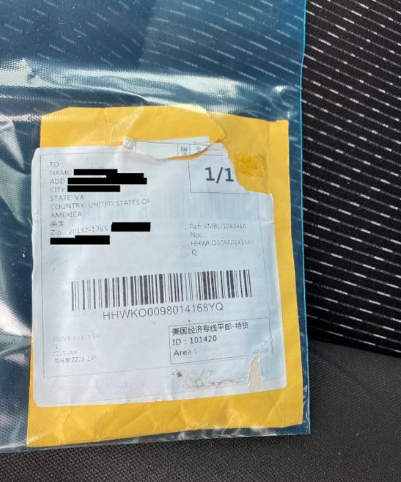 "The types of seeds in the packages are unknown at this time and may be invasive plant species. The packages were sent by mail and may have Chinese writing on them."
VDACS asked people to avoid planting the seeds, stating that they could be an invasive species.
"Invasive species wreak havoc on the environment, displace or destroy native plants and insects and severely damage crops. Taking steps to prevent their introduction is the most effective method of reducing both the risk of invasive species infestations and the cost to control and mitigate those infestations."
Anyone who receives a similar package is asked to contact the Office of Plant Industry Services (OPIS).
"Please do not plant these seeds. VDACS encourages anyone who has received unsolicited seeds in the mail that appears to have Chinese origin to contact the Office of Plant Industry Services (OPIS) at 804.786.3515 or through the ReportAPest@vdacs.virginia.gov email." 
Source link