Some TikTokers are controversial, and then there's Lovely Peaches (aka Brittany Johnson).
The 19-year-old social media influencer and aspiring singer triggered several controversies in the course of her relatively short career. A few months ago, she claimed to have hired a 30-year-old man to rape Charli D'Amelio. In 2019, she released a hit track, titled "Burnin' N' Itchin'." She also raised eyebrows by consistently failing to take care of her daughter, Cora Miracle.
So, what did Lovely Peaches do to her daughter, Cora Miracle?
From concocting tales about selling her daughter to a sex trafficking ring to sharing vividly-detailed — and entirely false — stories about how she killed her, there's hardly anything Lovely Peaches hasn't considered doing to her daughter. 
Having built an empire on falsehoods, the hotly-debated social media influencer frequently made the headlines with her far-fetched anecdotes involving verbal and physical abuse, sexual assault, and murder.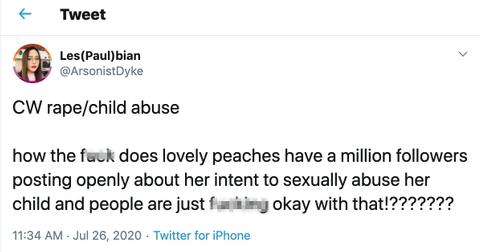 Take a YouTube video uploaded on Sept. 8, 2019, titled "Lovely Peaches Killed Cora and sold her into sextrafficking (The Cora Miracle Story)." Designated as a makeshift farewell, the video offers a brief description of Cora's death. 
"When you have a child, it's hard to kind of just forget them. […]  But, I'm getting over it, I'm living life. She's gone, whatever," Lovely Peaches says at the beginning of the video.
"Oh sorry, it's hard not to smile and be serious because I'm kind of happy that I no longer have to worry about a child," she adds shortly afterward. 
Reportedly, Lovely Peaches shot at least one Instagram Live detailing how she would abuse her baby. Getting her raped, inflicting various forms of physical harm, and molestation were just some of the crimes she is accused of describing in excruciating detail.
In addition, she posted at least one Instagram Live that saw her yell at her baby. In another YouTube video of a previous Instagram Live, she briefly addressed Cora Miracle, sternly reminding her that she has no right to disrespect her mother. 
"I brought you into this world, hoe," she says at one point. 
As of July 25, Lovely Peaches claimed that she had full custody of her daughter.
Her antics triggered a great deal of public outrage. Several Change.org petitions call for her ban from social media, while others demand an investigation into her misdemeanors as a parent. 
Lovely Peaches has reportedly lost custody of Cora.
On Aug. 6, activist group Children's Riot reported that Cora "has been rescued and will never be returned to her abusive mother." The Salvation Foundation, a non-profit created to raise awareness and aid in rehabilitation of sex trafficked victims, additionally claimed that Cora was initially placed in the care of her grandmother, before being returned to Lovely Peaches. However, she was once again taken from Lovely Peaches' care, with the non-profit having confirmed the news with the FBI. 
So Lovely Peaches will no longer be allowed to visit her daughter Cora, according to Children's Riot and Salvation Foundation. They also say the FBI has opened an investigation into Peaches, and Cora will not live with Peaches's parents but with other family members. is this a W? pic.twitter.com/bzUblU6D9u

— Destiny (@drdestiny) August 7, 2020
The Salvation Foundation also said that they are working to take down all of Lovely Peaches' social media accounts, so that she can no longer have the platform that she's been given. Her Instagram profile is currently unavailable — likely due to the community guideline violations — while her most blasphemous YouTube videos appear to have been deleted. 
If you need support, The National Sexual Assault Hotline is available 24/7 at 1-800-656-4673. You will be connected with a trained staff member in your area. Or visit RAINN.org to chat online with a support specialist at any time.