Hasbro has decided to discontinue a Trolls World Tour doll after widespread criticism and false claims were made by some parents online.
The controversy began when a woman posted a video of the DreamWorks Trolls World Tour Giggle & Sing Poppy toy on Instagram. Sold at Walmart and marketed to children four and older, the doll sings and giggles when a button is pressed.
Instagram user redpillbabe took issue with the placement of the button on the doll, alleging that the button was placed near the doll's "private parts" in an attempt to groom children.
"Go I dare you. Tell me I'm crazy. In what morphed dimension of the simulation IS THIS OK? how do you cognitive dissonance this away?" the Instagram user wrote in a caption alongside the video. "They're attacking your children and you just keep calling the people telling you 'crazy' God be with us. Some people really won't see the problem here." 
The video was subsequently marked as containing "partly false information" by Instagram.
Lead Stories, a fact-checker, concluded that "there is no evidence" to suggest that the button is "part of a secret strategy by the toymaker" to groom children.
Julie Duffy, senior vice president of global communications for Hasbro, told the publication that not all of the "Poppy" dolls have this button and that they recognize it may be perceived as "inappropriate."
"This feature was designed to react when the doll was seated, but we recognize the placement of the sensor may be perceived as inappropriate. This was not intentional and we are happy to provide consumers with a replacement Poppy doll of similar value through our Consumer Care team."
However, the video had already been seen by thousands of users before the correction was put in place. More than 84,000 people signed a petition calling on Hasbro to pull the doll from shelves.
"This Trolls World Tour doll named Poppy has a button on her private area under her skirt," the woman who started the petition wrote. "When you push this button on the doll's private she gasps and giggles. This is not okay for a child's toy! This toy needs to be removed from our stores."
"What will this toy make our innocent, impressionable children think? That it's fun when someone touches your private area?" the petition asks. It's damaging and has long term affects on a child's mental/physical health! Sign this petition to get this toy removed from shelves and help #SaveTheChildren! Children are our future and WE are their voice!"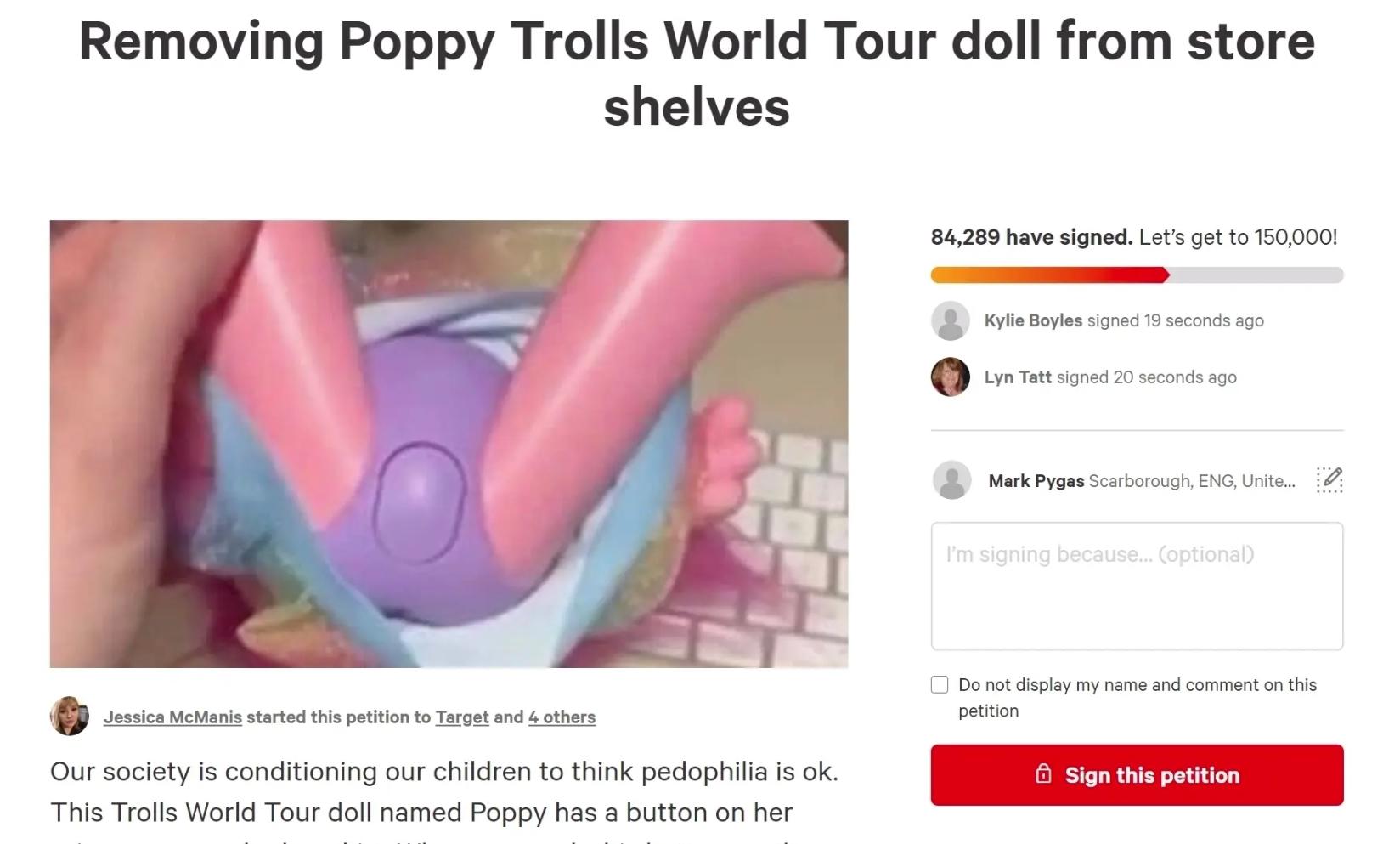 Hasbro told Lead Stories that they are "in the process of removing the item for purchase." The company is also offering to "provide consumers with a replacement Poppy doll of similar value through our Consumer Care team."
It appears as though Lead Stories were unable to reach out to the woman who originally posted the video, but it has since been reposed in several other places.