There are 32 teams in the NFL, yet fans can't seem to get past one in particular: the Cleveland Browns. The name is a little out-of-the-box, and with Odell Beckham Jr. now on the squad, people are more curious than ever about the history of the team. So, why are the Cleveland Browns called the Browns? Scroll down for everything we know! 
Why are the Cleveland Browns called the Browns?
So it turns out, there is some history behind the team name. The Browns are named after their original coach and co-founder, Paul Brown. But since the Browns isn't a mascot, the team has Brownie the Elf.
Paul first founded the organization back in 1945, however, their first four seasons were played in the all-American football conference from 1946 until 1949 until it folded.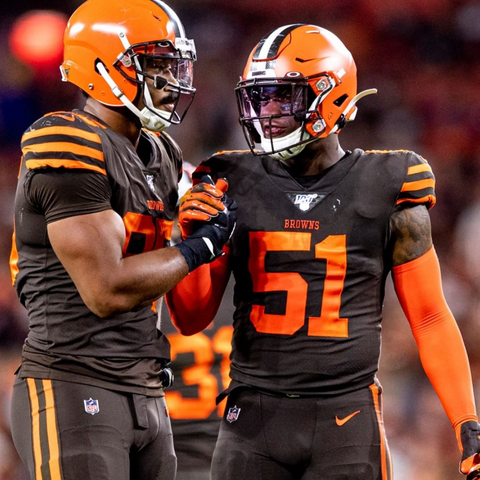 In 1953, the other co-founder, Arthur B. McBride, sold the team to a group of businessmen for a whopping $600,000 at the time. After eight years, the team was again sold to a group that was led by a New York advertising executive named Art Modell.
Art immediately fired coach Paul Brown just before the 1963 season, but (ironically) the team continued to succeed with their running back Jim Brown.
Even though Paul was gone, the Browns continued as the team name.