Whether you're a fan of Jeffree Star or simply love to hate on the controversial makeup mogul, you're likely aware that his family background is, well, complicated. Jeffree's father died by suicide when he was still a kid, and Jeffree has had a rollercoaster of a relationship with his mother — who has only recently come back into his life.
What Jeffree hasn't opened up about as much is other members of his family. What about his grandparents? Let's take a closer look at the beauty vlogger's grandmother specifically. Because although fans have never actually seen what she looks like, Jeffree and his grandmother seem pretty close.
Jeffree Star's grandmother inspired a YouTube makeup tutorial.
As it turns out, Jeffree has a strong connection with his grandmother, Mary, who is his late father's mother. And get this: She's over 100 years old.
In a September 2019 video published to Jeffree's YouTube channel, the makeup maven credited his grandmother for inspiring the makeup tutorial. 
"My 100-year-old grandma, she called me up the other day. We were just chatting about life. I'll tell you what, guys, she wears a wig every single day, she drives around, and she is just living," Jeffree told his Youtube subscribers at the time. "She has had such an insane life. Sadly, she has outlived all three of her children, including my father. She's outlived her husband and a lot of our family. So it's really crazy, and I'm just so blessed to still have her in my life."
Jeffree continued, "So we were talking the other day and she sent me the link to one of the world's oldest makeup tutorials from the '60s. "I was like, 'Grandma, what the hell is this?'" 
"My grandma said, 'Jeffree, I don't want to be on camera. I'm 100. I've had a really long life of having no one know who I am, and I want it to stay that way.' I said, 'Grandma, one day I will do your makeup on camera.' But I have to respect her wishes."
Although Jeffree's grandma Mary prefers to stay out of the spotlight and away from the camera, its seems the vlogger makes it a point to visit and chat with the centenarian often.
In response to rumors that started swirling in January about Jeffree and Nathan Schwandt possibly reconciling — just days after they announced their breakup — the makeup maven took to Twitter to set the record straight. Because it turns out there was a legitimate reason for that photo of Nathan sitting in Jeffree's kitchen: grandma Mary.
I've been in Orange County all day visiting my Grandma Mary who will be turning 103 years old this July! 👵🏻 Nate has been at my house w the dogs all day. Media outlets reporting lies about him: Stop, it's not going to work.

— Jeffree Star (@JeffreeStar) January 12, 2020
Source: Twitter
"I was in Orange County which is an hour and a half away from where I live in Hidden Hills and I was visiting my grandma Mary," Jeffree explained at the time. "Grandma Mary turns 103 this July and I don't know how long she has left so I've been visiting her a lot. Instead of having my security guards or my team watch my dogs, why not have Nathan who raised them with me for years watch them instead."
Fast-forward to March 2020, and the dedicated grandson was still prioritizing visits with his grandmother.
"Spending time with my Grandma Mary who turns 103 this June is so priceless," he tweeted alongside a photo of his hands holding hers. "She told me stories about my dad that I've never heard before and showed me so many photos from her vault. Meant the world to me."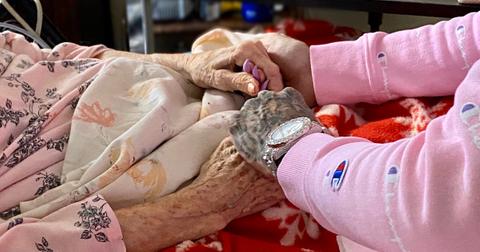 We don't know about you, but Jeffree Star's relationship with his grandma Mary is #Goals.  Kudos for him for making it a point to visit his grandmother often — and for cherishing this time he still has with her.