Rapper Dominic Fike is opening up about making music while behind bars. The 24-year-old released his first EP in 2017 while in jail, telling Complex, "I couldn't check the views or respond to the homies. I couldn't talk to people." 
So, why was the singer in jail? Keep reading to find out more about Dominic's past and how he created music while in prison.
Why did Dominic Fike go to jail?
Before becoming known around the world, the Florida native was mainly known in an underground circuit among his peers in Naples. According to Complex, Dominic was charged with battery of a police officer; though he would not discuss the legal situation further with the outlet, he did note that it was "just a wrong place, wrong time, charge with my brother." Adding, "It's public information now, it's all right there."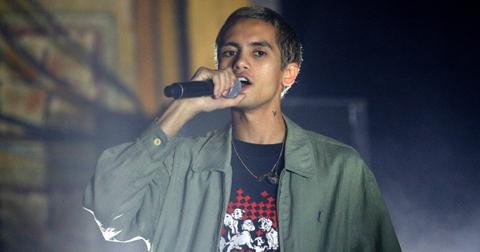 Following two months on house arrest, Dom went to jail. The rapper's then-manager, David Fernandez, brought him equipment to start making music, and the two would correspond over what should be on the demo tape.
"We had fights over some of the songs and how the order would be for a little bit," he told the outlet. "Sometimes when the argument would get so heated, we would be back to the 'we're not even gonna do this' talk. Like '3 Nights' wasn't supposed to go on the EP at all. I pushed for that so hard. I was like, 'That's the zinger!'"
In a new interview posted on his YouTube channel IN-FOCUS, Dominic opened up about making music while in jail. "The sink had a tone. It had a note to it. I called my producer one day and I banged on my sink and asked him what note it was," he said.
Dominic continued: "From there I was able to play the note and play up the C major scale. I was able to write music that way."
The rapper explained that he would write in his jail cell, but had a hard time remembering the music the following day. Therefore, using the sink helped him to remember. "I had to write music to it, but there was no source of music or scale. I literally had to bang on my sink everyday, find the note … start from there," he explained. "That was the source of music I had in jail."