One of the loveliest aspects of Animal Crossing: New Horizons (or, indeed, all of the Animal Crossing games) is that it takes place in real time. Sometimes, that can be a bit of a hassle (like when you forget to check your morning turnip prices until 11:59 a.m. and then find out you could have sold them for a huge profit, or when you're waiting for Tom Nook to finally finish building a bridge). But most of the time, it's nice to have something to look forward to both in the real world and in a game that takes place in real-world time.
For players in the northern hemisphere, it's currently shark season. But if you're in the southern hemisphere (or your game is, anyway), it's winter! And in Animal Crossing, winter means it's time to make snowmen on your island. Whether you're in the southern hemisphere and experiencing the in-game dead of winter, or you're a northern hemisphere player who just wants to be prepared, here's how to make a snowman in Animal Crossing: New Horizons.
Here's how to make your perfect snowman in 'Animal Crossing: New Horizons'.
The first thing you need to make a snowman in Animal Crossing: New Horizons is (obviously) snow. That should appear naturally on your island in the winter season. After that, you should go searching around your island and look for snowballs. They spawn randomly in your island's snowy areas just like fossils.
Once you find the snowballs, simply walk up to them. Your character will start kicking them around in the snow. As they roll around, they'll start to get bigger — just like snowballs in real life. You'll want to roll two snowballs around until you have one snowball that's as large as possible (you'll be able to tell when you reach max size because your character will slow down when pushing it) and one slightly smaller one. This next part is the most important.
Get the two snowballs close to one another — but you want to make sure to do this by pushing the smaller snowball. Once you get close enough, the snowball you're pushing will hop onto the other snowball, and a snowman's face will appear. If you've done it right, your snowman will greet you and say you did a great job. If you've done it wrong, your snowman will still greet you, but he'll probably say something snarky about how you messed up his body proportions. Whoops!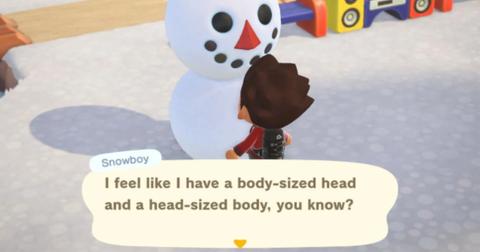 The best part of snowmen in Animal Crossing: New Horizons is that they're not just for decoration. When you make a perfect snowman, he'll give you a winter-themed DIY recipe! He'll also give you a Large Snowflake, which you'll need to craft the snowy DIYs. Remember, this is just for perfect snowmen — that's why you have to pay super close attention to the size of your snowballs. (BTW, if you accidentally make your head snowball too large, roll it around the plaza to knock some extra snow off!)
Alas, as with real-life snowmen, your Animal Crossing snowman will eventually melt and disappear. He'll last for three days total (and will give you a Large Snowflake each one of those three days). There are 15 snow-themed DIYs to collect in total, so be on the lookout for snowballs throughout the winter if you want to get them all. Have fun (and stay warm)!
Source link