It's been seven years since Jennifer Love Hewitt's The Client List aired a new episode, but you can now watch the Lifetime series' two seasons on Amazon Prime. 
Fans of the soapy primetime drama might not know that the show is a spin-off of a TV movie that also starred JLH in the lead role, though the character had a different name. The plot felt as though it had been ripped from the headlines, but is there an actual true story behind the "not just for massages" massage parlor premise?
Is 'The Client List' based on a true story?
The 2010 film is a fictionalized dramatization of a very real scandal that took place in Odessa, Texas. Just one year after the Healing Touch massage parlor opened its doors in 2003, more than 70 people connected to the business were arrested on charges related to prostitution. 
According to an article published by Texas Monthly, officers raided the establishment in May 2004, initially taking owners Kathy and Sharon Joyner into custody for dealing drugs. 
However, the lesbian couple would instead be remembered for their role as the parlor's madams, becoming experts at keeping a low profile despite attracting a considerable amount of clientele. But as the Joyners would soon learn, you can't expect a secret this big to stay a secret.
Their underground enterprise came crashing down after an ex employee reported Healing Touch's illegal activities to police. "There's an assistant district attorney involved, lawyers, businessmen," the woman, simply identified as "Kelly," told authorities at the time. They allegedly thought the 32-year-old mom was "bullsh—ing" them.
All in all, 67 men surrendered as suspects in the investigation. Most of the customers were between the ages of 40 and 60, and included a former school board member, city planner, and prominent rancher. "God, I had no idea how much a man needs to be told he's studly," Sharon reportedly said after her arrest.
"You'd be surprised how many times I'd hear the girls chuckling over how so-and-so came in and spent fifteen minutes flexing in the mirror and asking, 'Do you think I'm fat?'" she recalled. "Men need to feel important. And sometimes family and pressure at work and aging takes that away from them."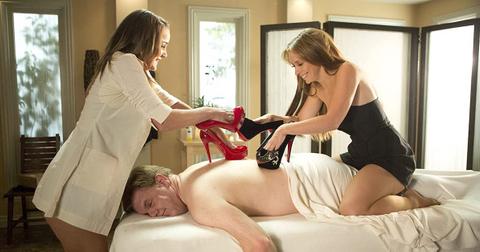 Jennifer Love Hewitt said the massage scenes were "nerve-wracking" to shoot.
For three years, the Party of Five alum spent a great deal of her workday rubbing oil on men — and, at times, it was just as uncomfortable as it sounds. "Essentially, even though we're actors, the guys are strangers to me… and I'm there in lingerie," she explained to Collider in a 2012 interview. 
"But, I will say that the guys that we've hired so far have just been such gentlemen. They've been so lovely," the brunette beauty noted, adding, "I think it's awkward for them also because I'm in lingerie and they're in pretty much nothing, and we're in front of so many people. It is a very intimate thing to have to massage people."
As for the movie and the series' controversial subject matter, the mother of two said, "The story that we're telling is real. There really are families that are put in these positions, economically… So, I feel like as women and men and people on the planet, you just have to do the best with what life gives you."
Source link