Jeanne Deckers, who eventually became known as Sister Luc Gabrielle, provided inspiration for the 1966 feature film, The Singing Nun, which starred Debbie Reynolds. The titular Singing Nun began her religious journey when she joined a convent near Waterloo, Belgium, where she wrote and performed her own songs and played the guitar. Eventually, she landed a record deal with Philips Records, and later in life, she won a Grammy Award.
A few years after Sister Luc Gabrielle unexpectedly rose to worldwide stardom in 1962, and gained tremendous notoriety for her achievements in the religious music genre, the ground-breaking religious figure faced a truly tragic end to her life. 
Stay tuned for more on what happened to the widely beloved Singing Nun.
How did Sister Luc Gabrielle become known as "The Singing Nun"?
Jeanne Deckers joined the Missionary Dominican Sisters of Our Lady Fichermont, a convent based in Waterloo, Belgium in September 1959 at the age of 31, according to Back 2 Stonewall. While living her life and working at the convent, Deckers' original tunes brought tremendous joy to friends, family, and visitors. There, her musical capabilities were widely appreciated, but little did she know she was destined for stardom.
A few years after joining the Missionary Dominican Sisters of Our Lady Fichermont, Deckers wrote her hit song, "Dominique," in 1961, according to U Discover Music, before she decided to approach Philips Records in Brussels. They agreed to a few small recording sessions, thinking little of it, but eventually, the song became an international hit. In 1962, her full album sold two million copies, and ultimately gained worldwide stardom, which was when she became widely known as "The Singing Nun."  
What happened to The Singing Nun? She ended up leaving her cloister in 1966.
Shortly after The Singing Nun premiered, Deckers left the cloister, according to Los Angeles Times. The rising star apparently felt unsure about her dedication, and she left for a Dominican Third Order. In 1978, she apparently said the money she made was owed to the order and that she was in massive debt and had resorted to teaching guitar lessons. Ultimately, she started a school for autistic children.
In 1985, Deckers and a close friend named Annie Pécher were found dead in their apartment near Brussels. The autopsy apparently showed they both had overdosed on barbiturates, and friends had said they were suffering from severe depression due to their financial downfall. Their deaths were ultimately ruled as a joint suicide.
Deckers' diary also indicated that she had wanted a sexual relationship with Pécher, but had to restrain her feelings due to her vow of celibacy and religious commitments, according to Back 2 Stonewall. Needless to say, the end of her life was filled with sadness.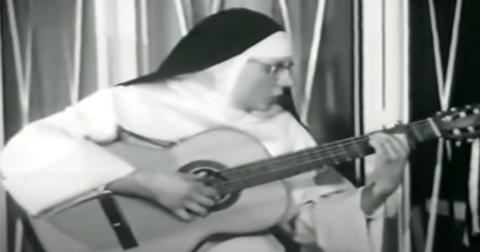 Although The Singing Nun and her beloved romantic companion passed away several years ago, fans of the singer, songwriter, performer, and religious figure still honor her across the globe. She seriously rocked the convent unlike anyone else.
Source link