Just when you felt like 2020 was doomed to be nothing better than a dumpster fire, we've finally been given a glimmer of hope. After almost a decade of waiting for any news of a television adaption for the Percy Jackson series, author Rick Riordan finally confirmed that one is in the works.
Rick took to Twitter to share that a new Percy Jackson television series based on the books is in development and will premiere exclusively on Disney+.
Rick promises the Disney Plus show will be more faithful to the 'Percy Jackson' books than the movie was.
Fans of the Percy Jackson series probably remember the train wreck that was the 2010 movie adaption of The Lightning Thief, which flopped didn't do the books justice as fans had hoped it would. Rick has been open about his dislike for the film adaptions.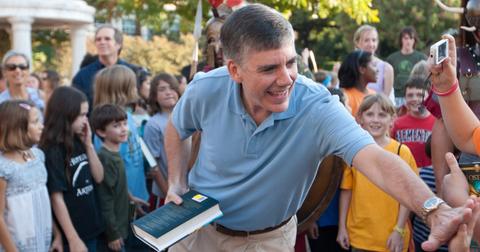 "As I've said many times, once I saw the final script and saw what they were doing on the set, I realized I had to step away for my own peace of mind," he wrote on his blog. "I never saw either of the movies in their final form. What I know of them, and how I judge them, is based entirely on my experiences with the producers and on the final scripts… Do you see any indication [on my website] that the Percy Jackson movies ever existed? No. No, you do not."
He even went on to say he wouldn't want there to be a reboot of the series if he was going to have the same experience as he did with the films. The Lightning Thief was liberal in its adaptation aging the characters from 12 to 17 (against Rick's recommendation) and added scenes that didn't even exist in the book (which Rick also advised against).
But this new Disney+ adaption already seems more promising than the movie was — especially since Rick and his wife, Becky, made the announcement together on his Twitter.
Rick and Becky posted a video announcing that the streaming service had officially picked up the show for a TV series adaption — and the pair are going to be as involved as they can in the process. 
"For the past decade, you've worked hard to champion a faithful on-screen adaptation of Percy Jackson's world," Rick wrote in a follow-up tweet. "Some of you have even suggested it would be a great series for Disney Plus. We couldn't agree more! We can't say much more at this stage but we are very excited about the idea of a live-action series of the highest quality, following the storyline of the original Percy Jackson five-book series, starting with The Lightning Thief in season one."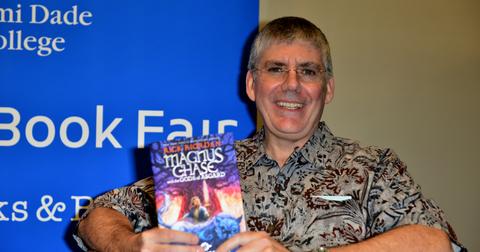 "Rest assured that Becky & I will be involved in person in every aspect of the show. There will be much more news in the future, but for now, we have a lot of work to do! Buckle up, demigods. It's going to be a fantastic, exciting ride!"