If you've heard of the new FX and Hulu show, Mrs. America, you know that the miniseries portrays different kinds of feminists. 
From Betty Friedan, the woman often credited for sparking second-wave feminism, and Gloria Steinem, who became the face of the movement, to Phyllis Schlafly, the ardent anti-feminist who opposed the ERA and other tenants of second-wave feminism, Mrs. America doesn't shy away from showing all sides of the argument for and against women's rights.
One of the many interesting women in the show's cast is Shirley Chisholm, played to perfection by Uzo Aduba. But while Shirley certainly made historical leaps for women and for black women, her name and legacy is often left out of the history books. 
Shirley Chisholm didn't think she was destined for politics.
A Brooklyn native, Shirley Chisholm was the first woman to run for the Democratic nomination and the first black presidential candidate of any major party. But growing up, this political powerhouse didn't think she was suited to a life in politics because of what she termed a "double handicap": being both black and a woman.
Luckily, the rampant racial and gender inequalities of everyday life led Shirley to politics, and by the 1960s, she was a part of the League of Women Voters, the National Association for the Advancement of Colored People (NAACP), the Urban League, and the Democratic Party club in Brooklyn.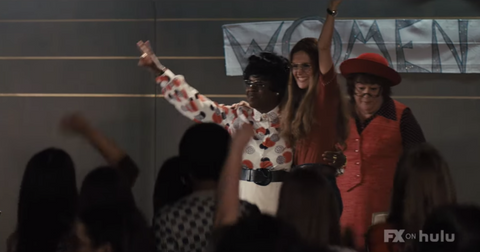 In 1964, Shirley became the second black person in the New York State Legislature, and in 1968, she won a seat in Congress. During her time as a member of Congress, Shirley introduced more than 50 pieces of legislation that focused on gender and racial inequality, alleviating poverty and ending the Vietnam War. 
In 1977 she also became the first black woman and the second woman to ever serve on the powerful House Rules Committee.
Source link